Most San Francisco Bay Area residents have heard of "Fas Trak" but a smaller group has heard of the "Clipper" card.
FasTrak is an electronic toll collection (ETC) system that allows you to prepay your bridge tolls, eliminating the need to stop at the toll plaza. The system has three components: a toll tag, which is placed inside your vehicle; an overhead antenna, which reads the toll tag and collects the toll; and video cameras to identify toll evaders.
Clipper is a similar prepaid card that is non-contact, meaning you don't have to swipe it like your debit card at the grocery store. Think of the Clipper card as your Fas Trak card for car-free or car light families.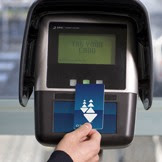 The MTC (Metropolitan Transportation Commission) goes on to describe the clipper card in more detail:
Clipper is an all-in-one transit card that keeps track of passes, discount tickets, ride books and cash value that you load onto it, while recognizing and applying all applicable fares, discounts and transfer rules. It is now accepted on Muni, BART, AC Transit, Caltrain, Golden Gate Transit and Ferry, and SamTrans

.
Named for the clipper ships whose speed revolutionized travel from the East Coast to Gold Rush-era California, the Clipper card gives you quick access to all major forms of Bay Area transit with one easy-to-use card.
The card allows you carry only one card for most Bay Area transit services such as
Caltrain
,
BART
,
SamTrans
,
VTA
,
AC Transit
,
SFMTA
, and most ferries. You can either carry cash balances and apply the balance to all of the transit systems (similar to paying cash), or you can load on passes. So if you currently carry a
VTA Adult Flash Pass
this can be converted to the Clipper form.
The true value of a Clipper card will be in extending the universality of the card. Not only would it be convenient for any payments within Bay Area Transit systems, but the other outlying systems as well. Why not the ability to use it on the
San Jose to Santa Cruz route 17
bus, the
San Jose to Monterrey MST route 55
, or the
MST route 79 bus
to the Monterrey Presidio. Other excellent uses would be: